01
Jun
Grill Master:
Jon Hoyt
| Short URL: This is the short link." />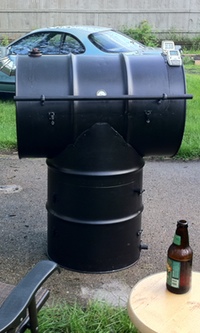 This Memorial Day is pretty special for our family. My brother in law (Daniel) is just back from Afghanistan, Saturday was his birthday, and he brought his family over 800 miles to visit us and help make great BBQ. Two years ago they visited and we smoked ribs on my $35 Brinkman and to this day those are still the best ribs either of us have ever had.
So enough back story, lets get to the meat! I bought 3 racks of ribs, a chicken, and a 10 pound pork shoulder to help break in the new smoker.
The Night Before
Daniel and I started by removing the membrane from the ribs and then rubbing the ribs and shoulder with Meatheads Memphis Dust.
The chicken got a good coating of Simon and Garfunkel rub.
Memorial Day Morning
I awoke at 8am on Memorial Day and built a good fire in The Smoker with charcoal and hickory chunks. I pre-lit the coals with my handy charcoal chimney.
When the smoker was up to temp I added some pans with apple juice and water and then placed the chicken and pork butt on the grates.
Then we sealed the lid and waited 3 hours.
Lunchtime
At lunchtime we swapped out the chicken for some ribs.
Lunch was the smoked chicken, steakhouse potato salad, and grilled asparagus.
The Apple Pie
After lunch my wife started making what has to be one of the best, and most dangerous, BBQ drinks I've ever had. Its called Apple Pie.
Recreation
Daniel and I enjoyed some pool time with his son (essential part to good BBQ is cooling down).
Dinner Prep
As dinner time approached we made sweet and sour slaw and corn to go with the ribs.
I made a BBQ sauce with these ingredients.
After 5 hours of smoking the ribs went into the oven for 30 minutes to steam, sealed up with some of the Apple Pie drink because we ran out of apple juice. Then onto the grill with our homemade BBQ sauce to crisp up a bit.
`
Almost there! The spread, ready for us to dig in and eat.
The Feast
I can't explain the joy I get from working together with family and friends to create great BBQ, the sides, the drinks, and then sharing it around a table, thankful for all that God has blessed us with. The ribs were amazing. Steaming with the Apple Pie drink enhanced the flavor, topping our last BBQ adventure. We didn't quite hit the texture mark perfectly, but we know what to do differently next time.
Dessert
Last but not least is a chocolate and peanut butter cake courtesy of my wife (in honor of my brother in law's birthday also being this weekend).
* the title of my entry is an homage to the show Chuck
* the pork butt ended up taking 16 hours to complete, which was fine since the 3 racks of ribs were more than enough to feed us
Battle Armor:
| | |
| --- | --- |
| Type of Technique: | Low and Slow |
| Type of Grill Used: | The Smoker |
| Type of Charcoal: | Kingsford |
| Type of Wood: | Apple, Hickory |
| Type of Poultry: | Whole Chicken |
| Type of Pork: | Pork Butt, Ribs |
| Type of Sauce(s) Used: | Homemade Jack Daniels BBQ Sauce |
| Type of Marinade: | Meathead Memphis Rub, Simon and Garfunkel Rub |
| Side Dishes: | Grilled Asparagus, Martin's Steakhouse Potato Salad, Sweet and Sour Slaw, Sweet Corn |