11
Oct
Grill Master:
Vin Thomas
| Short URL: This is the short link." />
Winner of the

Oktoberfest2010

This week's challenge was incredible and definitely the tastiest challenge for me so far.
I started by grilling up some onions and bacon. Once those were nicely browned, I put five Beer Brats on my new infrared BBQ. As those were grilling to perfection I pan-fried some perogies along side of the onions and bacon.
If you don't know what perogies are, you're SERIOUSLY missing out! Perogies are a delicious European dish that is made of dough, potatoes, and cheese. And they're great topped with onions, bacon, and sour cream.
And of course you can't have a true Octoberfest dinner without an official Octoberfest beer. I actually had 3 different varieties available. The one pictured here is the Paulaner Octoberfest that I found at a small beer retailer in Salem.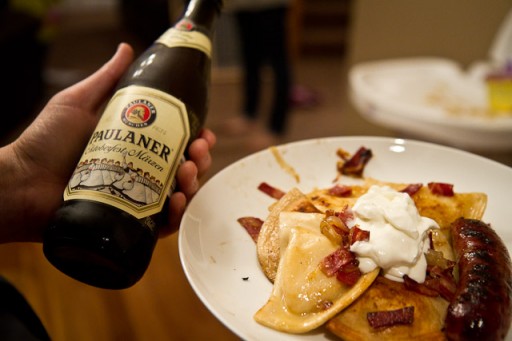 Battle Armor:
| | |
| --- | --- |
| Type of Technique: | Frying, Grilling |
| Type of Grill Used: | Gas |
| Type of Sausage(s): | Bratwurst |
| Side Dishes: | Perogies |