This was one crazy battle that brought lots of stress and headaches, but after so many hours of strategic planning I finally came up with an idea. I decided I would make the best breakfast burger ever.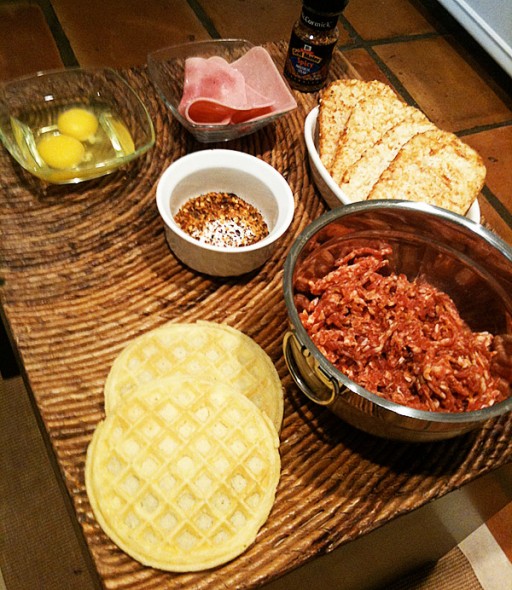 My ingredients were Johnsonville Italian Ground Sausage, Hash Browns, Eggo Waffles, Ham and eggs.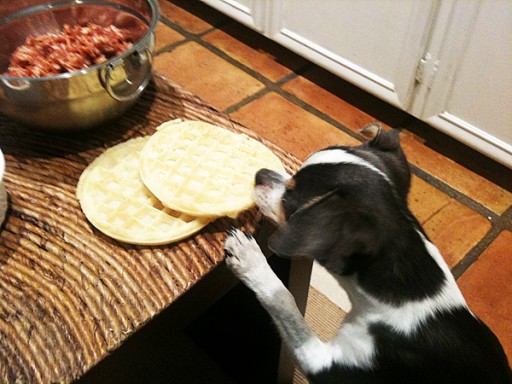 Dylan Burciaga also had to get a little taste.
I mixed an egg, ham, coby cheese and sausage ground beef and made 2 burger patties. Then I added a bit of generic steak seasoning with a hint of black pepper. Once the grill was ready, I placed the patties on top and let them sit on each side for about 4-5 minutes. In the process of grilling, I accidentally dropped a glass plate and it shattered all over the place. My wife was not a happy camper, but good thing for me I did not use one of the nicer plates. Once the patties were almost done, I placed the hash browns and eggos on the grill so that they too could have a charcoal taste. And finally, I placed two slices of ham on the grill for about a minute. And yes, I already had pieces of ham mixed with cheese inside the patty.
Once the patties, hash browns and eggos were ready, I cooked an egg to place on top of the patty and thus my "Breakfast Burger."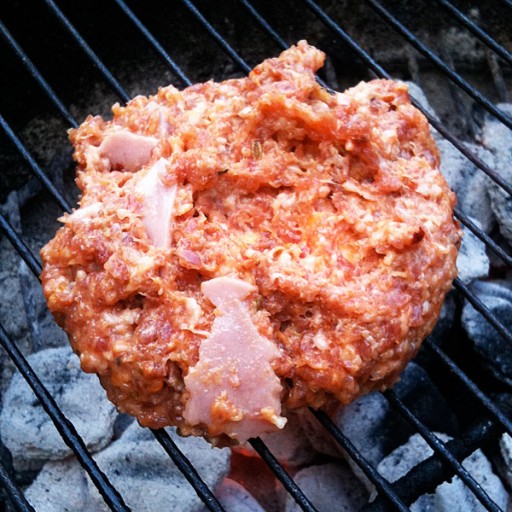 The cheese was oozing out of the patty
Battle Armor:
| | |
| --- | --- |
| Type of Technique: | Grilling |
| Type of Grill Used: | Charcoal |
| Type of Charcoal: | Kingsford Match Light |
| Type of Ground Meat: | Johnsonville Italian Sausage - Mild |
| Side Dishes: | Hash Browns, Jalapeno |