01
Aug
Grill Master:
Brenna Wilson
| Short URL: This is the short link." />

Seriously , I'm ready to forget s'mores after making these sweet grilled chocolate-strawberry paninis with mascarpone.
Starting out with four slices of French bread, I buttered one side of each. Then I spread strawberry jam on the non-buttered side of two pieces and then added slices of strawberries. Over the top of the strawberries, I sprinkled chopped bittersweet chocolate. Next, I spread mascarpone over the plain side of the remaining slices. I put the sandwiches together and then added brown sugar to the buttered sided before grilling.
Some serious sweetness!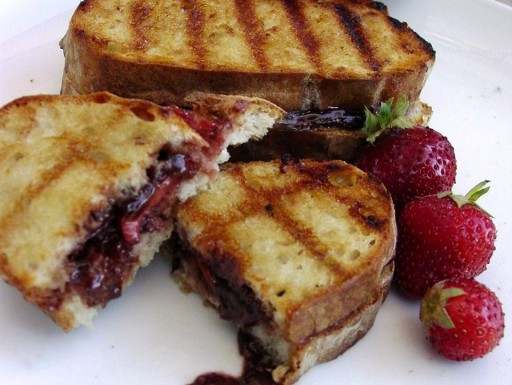 Battle Armor:
| | |
| --- | --- |
| Type of Technique: | Grilling |
| Type of Grill Used: | Gas |
| Side Dishes: | Strawberries |