01
May
Grill Master:
Travis Gates
| Short URL: This is the short link." />

It all started many moons ago after watching Nacho Libre and hearing the one liners like "Save me a piece of that corn for later!" or "get that corn outta my face!" They made that corn on the cob look so GOOD I had to have it! So the quest began to find this elusive corn on the cob creation.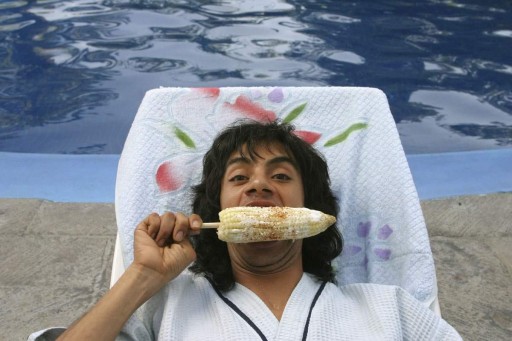 Flash forward to 2010 I am taking the family to the local city festival and there is a vendor grilling corn on the cob just like I dreamed it would be! What a pleasant surprise for the entire family! So last night I hear the festival is in town again and why do I talk everyone into going last night? Was it the great carnival rides? Maybe the interesting carnival people who manage the games? or was it the thoughts of getting some more of that amazing corn on a stick! YES!! So I search high and low but no one has seen someone selling corn this year! What! Why even have a festival without corn on a stick! You can imagine my disappointment! So I decided to finally figure out how to make it for myself.
Introducing my interpretation of Corn on a Stick – The NEW & IMPROVED Gates Family Recipe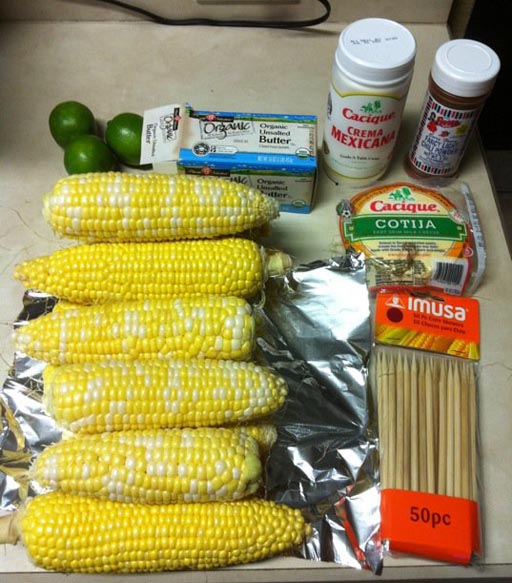 We take the finest ingredients:
Corn on the Cob (of course! corn in a can would not have the same outcome)
Cojita Cheese
Chili Pepper Seasoning
Fresh Limes
Organic Unsalted Butter
Corn Skewers
Lots of Tin Foil (you can use the foil over and over again)
the recipe called for Mayo but I substituted light Crema Mexicana!
The secret is to butter the corn and wrap it in tin foil and grill for 7-10 minutes flipping once. Then Jam a stick in it, pour some cream on it, and roll it in the fresh grated cojita cheese, sprinkle some chili pepper on it to taste, and voila! (Repeat as often as necessary)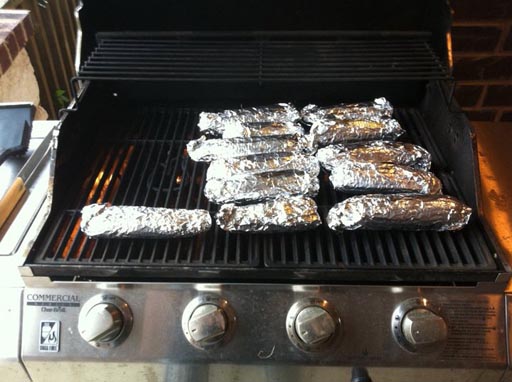 Side Note: You will notice in all my future cooking escapades that I am very conscientious to buy as much organic products as possible and cook with the least amount of salt.
Here are a couple of my satisfied customers! ENJOY!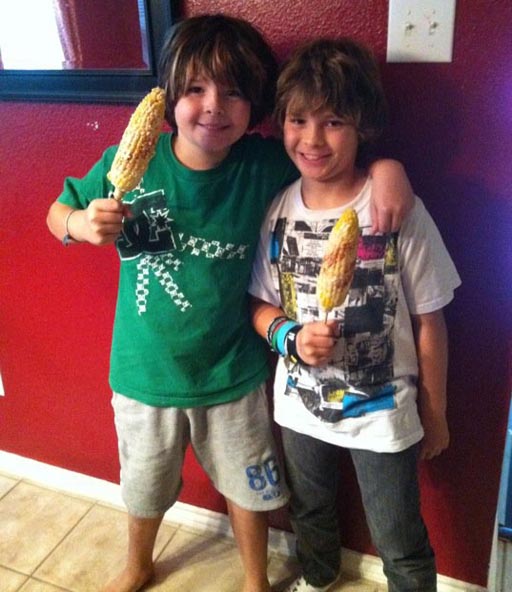 Battle Armor:
| | |
| --- | --- |
| Type of Technique: | Grilling |
| Type of Grill Used: | Gas BBQ |
| Type of Sauce(s) Used: | Crema Mexicana |
| Side Dishes: | Corn on the Cob |