03
Jun
Grill Master:
Andy Rutledge
| Short URL: This is the short link." />

This is my first cookout post and it's pretty regular fare. Tonight I made what is something of a weekly staple at the Rutledge house; rib eyes and grilled veggies. Oh, there is the addition of Bush's honey baked beans (on the stove) and some fresh Roma tomatoes. The steaks get all the seasoning they need from plain ol' coarse kosher salt and black pepper (anything more is a crime). Warmed to room temp and then thrown on the hottest part of the grill. Turn once and it's perfect.
Grilled broccoli is not something a lot of folks are familiar with, but I hope you'll take my advice and try it. Best if they're room temp before cooking. Season with a little olive oil and black pepper and directly onto the grill (helps if you close off the vents and shut the lid to cook). Turn once after about 3 or 4 mins and get a little bit of char on them. Finish with grated parmigiano. Delish! Tonight I added cob corn to freshen up the palette and finished the plate with cold tomato slices for a nice cool acid refresher.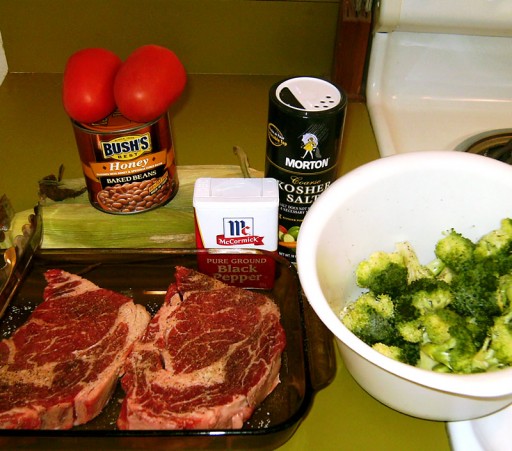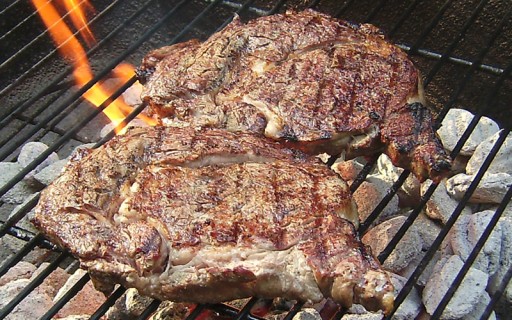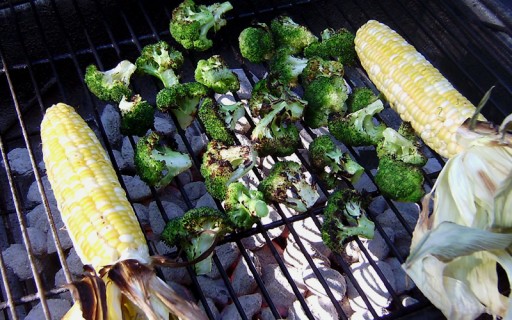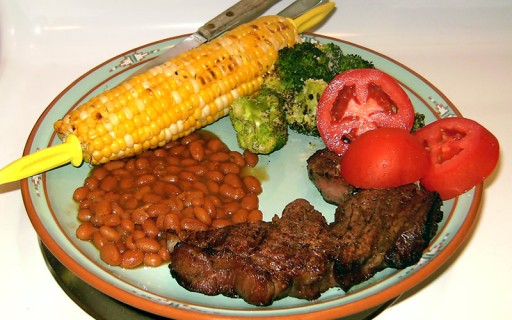 Battle Armor:
| | |
| --- | --- |
| Type of Technique: | Grilling |
| Type of Grill Used: | Charcoal |
| Type of Charcoal: | Kingsford original |
| Type of Steak(s): | Rib Eye Steak |
| Side Dishes: | Baked Beans, broccoli, Corn, tomato |