02
Aug
Grill Master:
Vin Thomas
| Short URL: This is the short link." />

We had a couple friends over for dinner tonight, and I couldn't decide on chicken or steak. So I went with both.
For the "wing" portion of the meal I marinated some chicken breast with some Stubbs Spicy BBQ Sauce and fresh cut pineapple. I grilled the pineapple along with the chicken to add a little sweet flavor to the meal.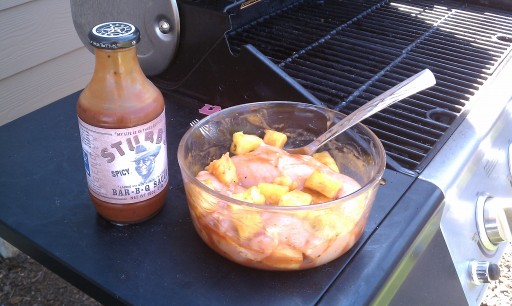 The "hoof" portion was a petite sirloin steak seasoned with black pepper and sea salt. Cooked medium-rare.
All of this was served with a light and fresh garden salad topped with a balsamic vinaigrette dressing.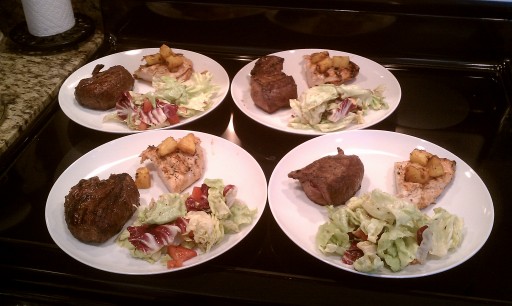 The only part of this night that was better than the dinner, was the dessert BBQ which I will post about tomorrow.
Battle Armor:
| | |
| --- | --- |
| Type of Technique: | Grilling |
| Type of Grill Used: | Gas |
| Type of Steak(s): | Petite Sirloin |
| Type of Poultry: | Chicken |
| Type of Sauce(s) Used: | Stubbs Spicy BBQ |
| Type of Marinade: | Stubbs Spicy BBQ |
| Side Dishes: | Salad |